Background of Kaifeng
---
Located in the mid-east region of Henan Province, Kaifeng is the emerging sub-center city of Henan Province, city of core development zone of Central Henan Urban Agglomeration and core city of Zhengzhou metropolitan area. With a long history and abundant tourism resources, Kaifeng, the ancient capital of eight dynasties, is also the gathering place of intangible cultural heritage. With the planning advantage of integrated development of Zhengzhou and Kaifeng, the tourism economy and tertiary industry in Kaifeng enjoy further development. As the first batch of "famous national-level historic and cultural city" released by the State Council, Kaifeng boasts a profound history of thousands of years.
From Cangjie, the inventor of Chinese characters in ancient times, Shi Kuang, a famous music master in the Spring and Autumn Period, Mencius, the most influencing figure secondary to Confucius, Li Bai, a poetic genius in the glorious age of Tang Dynasty to Emperor Taizu, Emperor Taizong, Zhang Zeduan, Meng Yuanlao of the Northern Song Dynasty and Yu Qian, Shi Kefa, Li Mengyang etc., of Ming and Qing Dynasties, they have once been to Kaifeng. In the late Qing Dynasty, as the place where Henan Provincial Government was located, Kaifeng presented the characteristics of the transition from the old to the new in the culture field due to indirect influence from western culture and witnessed profound reform in the realms of thought, technology, education and literature. Influential figures that produced influence on the Central China and even China emerged and former residences of celebrities were left with quantity and influence ranking first in Henan. These former residences of celebrities, as organic components of famous historic and cultural city in Kaifeng, bear witness to the historical changes of Kaifeng and deepen cultural connotation of Kaifeng.
In recent years, the tourism industry in Kaifeng has developed rapidly with total tourism income exceeding 60 billion and over 68 million visits of tourists at home and abroad in 2018. The growth rate was over 24%, presenting a positive trend. Tourism in Kaifeng is characterized by cultural tourism represented by Qingming Riverside Landscape Garden, Kaifeng Mansion, the Song Dynasty of Kungfu City.
Tourism in Kaifeng mainly features scenic spot sightseeing and simple amusement. Qingming Riverside Landscape Garden and Dragon Pavilion currently boast the highest tourism concentration ratio. The development of tourism commerce in Kaifeng is still in its infancy and tourism commerce still features dual structure of featured retail, catering and supporting facilities.
Works submission requirements
---
Submitted contents include:
1. 4 Pictures of Design scheme of A1 size (841MM x 594MM) with unlimited horizontal and perpendicular layout and composition. Mapping documents are submitted in JPG format with resolution not lower than 300dpi. Scheme contents include but not limited to:
1) Site plan
2) Architectural plan, elevation, profile
3) Rendering and analysis chart
4) Design philosophy diagram
5) Economic and technical indexes
6) Other image data that can fully express design concepts
2. Works information sheet (information sheet template is provided in download materials)
3. Participants need to submit creation drafts, work photos and other materials during creation process (image in JPG format with resolution not lower than 150dpi)
Optional submission contents:
1. Business plan about content creativity: the project (homestay or other business types) brand content operation idea PPT involves brand positioning, target population, project population, marketing, development strategy and execution plan of the brand in Shuanglong Lane.
2. Video (2-4 minutes): to better present works concept, short videos can be submitted, including introduction to team members, description of design concepts of works with display boards. The format is unlimited. Videos can be made in MPEG, MP4, AVI formats.
Review Standard
---
1. Locality of design: 30 scores (highlight the integration degree of design and resources of Shuanglong Lane in Kaifeng, including digging and utilization of local materials, extraction of local elements, implantation of local culture and activities, etc.)
2. Design integrity: 30 scores (including concept plan, whether design can be integrated with surrounding integrated ambience, consistence and coherence of the design of Shuanglong Lane)
3. Leading function of design: 20 scores (including innovation of design and influence of future development)
4. Product richness: 20 scores (including business type layout, supporting business types, facilities implantation, local derivative consumption of products, etc.)
Copyright description
---
Before submitting works, participants need to carefully read, fully understand and agree to the clauses set forth below. Pursuant to relevant national laws and regulations, "participants" or "authors" who take the initiative to submit works, are deemed by sponsors to have made the following irrevocable statement on the copyrights of submitted works.
1. Declaration on originality
Works for the competition are original works of participants without infringing on any patents, copyrights, trademark rights and other intellectual property rights of others; the works are not publicly released on newspapers, magazines, websites and other media, not subject to patent application or copyright registration, involved in no other competitions or commercially available in any forms.
2. Ownership of intellectual property rights of works for competition
Authors are entitled to the right of signature of works for competition pursuant to Copyright Law. Other intellectual property rights belong to sponsors of competition who also has the right of display and publicity of works for competition. No units or individuals shall transfer, copy, reprint, spread and extract and compile works in any forms without authorization.
Host & Partner

Contact
---
AIM Committee
www.aim-competition.com
info@aim-competition.com
010-5846 1198
JUPING: 15210662115
京ICP备14007585号-1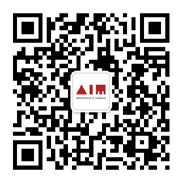 AIM ( WeChat Subscription)